Professional Development and Enrichment
MICHAEL GRIFFIN
Professional Development and Enrichment
Michael Griffin
Michael Griffin is an educator, keynote speaker, author and pianist. He provides professional development services for education and business organisations, and enrichment lectures for students and parents in Australia and around the world.
Education
Michael Griffin provides professional development for teachers that clarifies the key teaching and learning principles resulting in greater student achievement and engagement. Michael synthesises mindset, intrinsic motivation & metacognition into a model that challenges teacher expectations and capped-potential self-conception. He also provides enrichment lectures and seminars for students of all ages, and parents, distilling the factors in control of the student that lead to exceptional achievement.
Business and Corporate
Why do some people achieve so much more than others? Dismissing the age-old notion of talent, Michael Griffin demonstrates how the quality and quantity of effort is the greatest predictor of expert performance. His inspiring, accessible talk - 'The Smart Culture: Igniting Potential' - will equip business leaders with the methods and mindset to increase staff capacity.
Books
Michael Griffin is the author of seven books including the widely acclaimed Learning Strategies for Musical Success, Bumblebee! Rounds & Warm-up for Choirs, and Children and Learning – For Parents. His books continue to receive superb reviews from teaching professionals, education journals and associations throughout Australasia, the UK and USA.
Academic Articles
Michael Griffin has been published in numerous international papers, magazines and blogs, including Piano Performer Magazine (USA), The International Educator (USA), ACDA American Choral Journal, Rhode Island Music Educators' Review (USA), Alberta Piano Teachers Association (CAN), Rhinegold Music Teacher (UK), MMA Ensemble (UK), ESTA Arco (UK), ISME Proceedings (Italy), Hotelier (UAE), 7 Days Dubai (UAE), Arabian Business (Middle East), Peninsula (Qatar), Music in Action (Australia), ANCA Sing Out (Australia), ASME (Australia), AUSTA Stringendo (Australia), The Borneo Times (Malaysia). He has been an invited guest on radio stations in Dubai, Australia, Singapore and Brunei.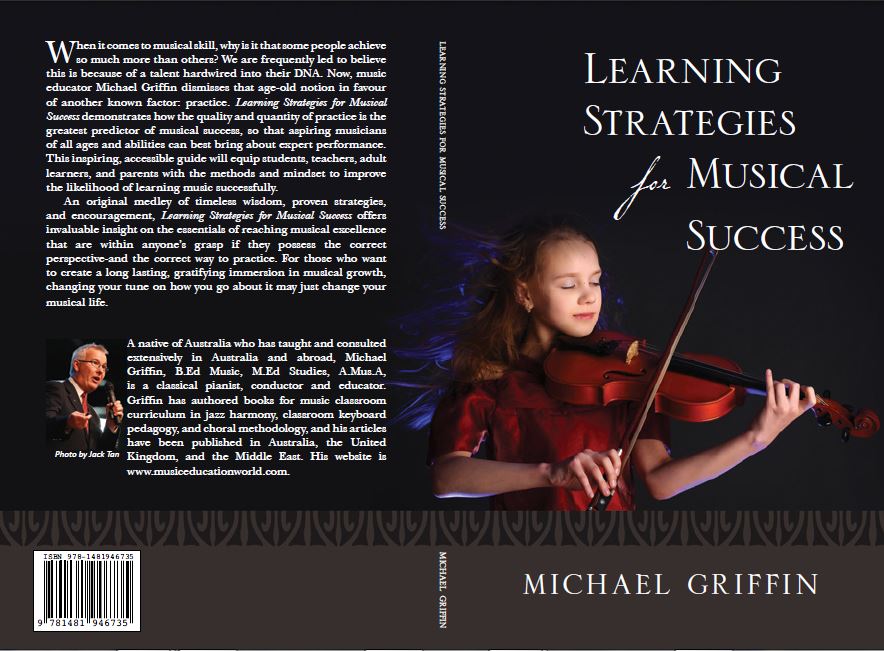 Breaking Shackles: Liberating the Mind for Learning (all teachers)
The best workshop I attended at this conference. I love the way you involve your audience and present concepts in such a user-friendly way. - M. Hawthorn, European Council for International Schools, Nice, France.
Michael has really got me reflecting on my practice and reminded me of different schools of thought and processes to encourage me to look at how I motivate myself and others. - International School Leaders Conference, Brunei.
Unlocking Musical Potential (music teachers)
Fantastic course, the best professional development I've ever had. My 37 years of teaching is about to be transformed. So much to think about and do. Michael's enthusiasm is infectious! - Karin Bush, Albany, Western Australia.
I thoroughly enjoyed this CPD. It was so interesting; I learnt much and feel inspired. Michael is a wealth of knowledge. This is the best CPD I've ever attended. - Qatar Music Teachers Conference: Doha
Michael Griffin was outstanding, inspirational and thought provoking. The buzz of excitement was palpable! Sue McCall, Leader -Harrow Music Service, UK
Seeking Excellence (all students)
Engaging, informative and passionate. Michael captured the imagination of our students. – R. Davies, United World College South East Asia, Singapore.
Michael, the lecture was excellent, and we really enjoyed your company too! - R. Tanner, The Rugby School, UK.
Developing Musical Skill (music students and parents)
Truly inspiring. Your explanation of motivation and practice made a great impact. We now find ourselves doing things differently here. - Ralph Allwood, Eton College, UK.
I went straight home and practised! – Red Maids student, Bristol UK
The talk by Michael Griffin was so encouraging and useful. We came as a family and our daughters age 11 and 8 enjoyed every minute of it. – Hampshire Youth Orchestra, UK
Truly inspirational! - St Peter's Girls School student, Australia.
I thoroughly enjoyed Mr Griffin's workshops. I learnt a lot more about myself and knowledge in general. Thank you for everything! – Geelong Grammar School student, Australia.
The Smart Culture: Igniting Potential
Michael, thank you for speaking to the principal members of our Association. Your presentation was thought-provoking, stimulating, humorous and entertaining, while still getting your message across to the entire audience. You would be a huge asset to any group who is looking for an amazing, one-of-a-kind speaker with incredible piano skills as an added bonus. - Peter Johnston, Executive Director, Association of Independently Owned Financial Professionals Australia
My team walked away empowered by inspirational concepts and advice around how we all foster a mindset of continual learning that doesn't limit our potential. Thanks for a great session! – Lorna Raine, Chief Financial Officer, George Weston Foods Limited, Australasia.
Inspirational… you helped us to understand how practice techniques can apply to all aspects of our lives and that 'genius' does not happen my mistake. – Jo Bollington, Sales and Service Transformation at Commonwealth Bank, Sydney, Australia
MICHAEL GRIFFIN
M. Ed Studies, B.Ed.
A. Mus. A
Adelaide, South Australia