Professional Development and Enrichment
Michael Griffin
Michael Griffin is an educator, keynote speaker, author and pianist. He provides professional development services for education and business organisations, and enrichment lectures for students and parents in Australia and around the world.
Griffin is an endorsed teacher training provider for NSW Education Standards Authority (NESA) Accredited Professional Development, Teacher Training Australia, and the ACT Teacher Qualifications Institute (TQI).
Education
Michael Griffin provides professional development for teachers that clarifies the key teaching and learning principles resulting in greater student achievement and engagement. Michael synthesises mindset, intrinsic motivation & metacognition into a model that challenges teacher expectations and capped-potential self-conception. He also provides enrichment lectures and seminars for students of all ages, and parents, distilling the factors in control of the student that lead to exceptional achievement. As well as face-to-face, view Michael's online course cataloque.
"Michael was a keynote speaker at the inaugural 2021 Regional Education Summit in Albury Wodonga. He is a passionate educator with a rich body of skills and knowledge, grounded in research and evidence. We particularly enjoyed his insights with regard to growth mindset, motivation, mastery and metacognition. Michael's parent seminar was dynamic and engaging; equipping parents with a practical toolkit to assist our children in their learning and development. Michael brings a smorgasbord of learning insights to help us become better educators. He was generous, communicative and thoroughly invested in our community during his time at the College." – Justin Beckett, Principal, Trinity Anglican College, Albury NSW.
Business and Corporate
Why do some people achieve so much more than others? Dismissing the age-old notion of talent, Michael Griffin demonstrates how the quality and quantity of effort is the greatest predictor of expert performance. His inspiring, accessible talk – 'The Smart Culture: Igniting Potential' – will equip business leaders with the methods and mindset to increase staff capacity.
Books
Michael Griffin is the author of eight books including the widely acclaimed Learning Strategies for Musical Success, Bumblebee! Rounds & Warm-up for Choirs, and his latest book suitable for all teachers and parents, Metacognition: Tecahing Children to Think. His books continue to receive superb reviews from teaching professionals, education journals and associations throughout Australasia, the UK and USA.
Academic Articles
Michael Griffin has been published in numerous international papers, magazines and blogs, including Piano Performer Magazine (USA), The International Educator (USA), ACDA American Choral Journal, Rhode Island Music Educators' Review (USA), Choral Director (USA), Alberta Piano Teachers Association (CAN), Saskatchewan Registered Music Teachers' Association Journal (CAN), Rhinegold Music Teacher (UK), MMA Ensemble (UK), European String Teachers' Association, Arco (UK), European Piano Teachers' Association, EPTA (UK) Piano Professional, UK Ed Magazine (UK), ISME Proceedings (Italy), Hotelier (UAE), 7 Days Dubai (UAE), Arabian Business (Middle East), Peninsula (Qatar), Edsense (India), Music in Action (Australia), ANCA Sing Out (Australia), ASME (Australia), AUSTA Stringendo (Australia), Australian Music Teacher Magazine, Stretto (ANZCA), Organ Music Society of Sydney (Australia), Piano Perspectives (Australia), New Zealand Suzuki Journal, The Borneo Times (Malaysia). He has been an invited guest on radio stations in Dubai, Australia, Singapore, NZ and Brunei.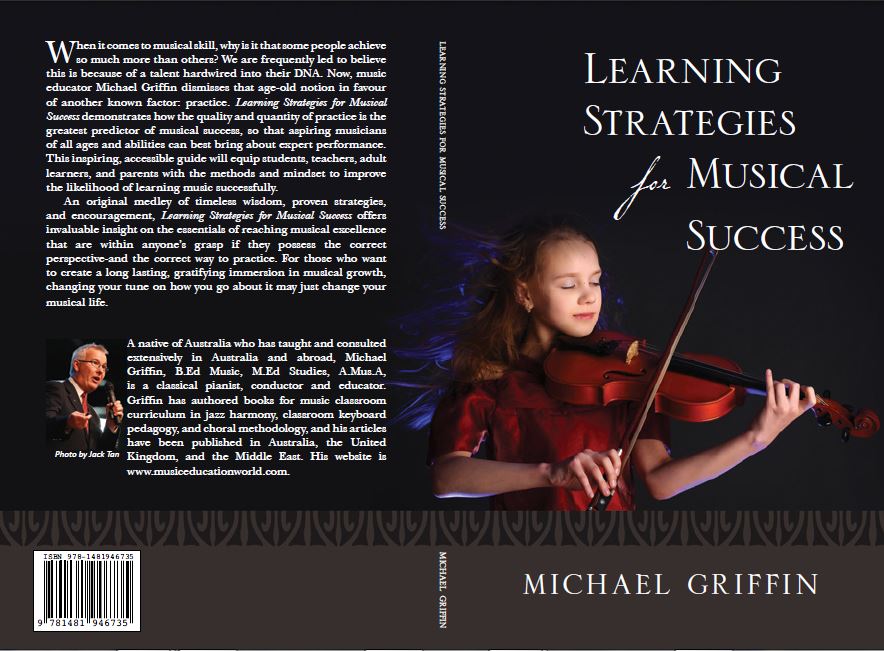 Unlocking Musical Potential (music teachers)
Developing Musical Skill (music students and parents)
The Smart Culture: Igniting Potential
MICHAEL GRIFFIN
M. Ed Studies, B.Ed.
A. Mus. A
Adelaide, South Australia